We have all experienced that wonderful feeling of running into old friends in the least expected of places.  Well it happened in Montreal this past week.   I rounded a corner, and there in front of me was someone whom I have know for years, but never had the chance to say hello to in person.  This was not exactly a living person, but rather a painting by Briton Riviere of St George And The Dragon which I have looked at for years but never had the pleasure to see first hand until this past weekend.  What a stunner!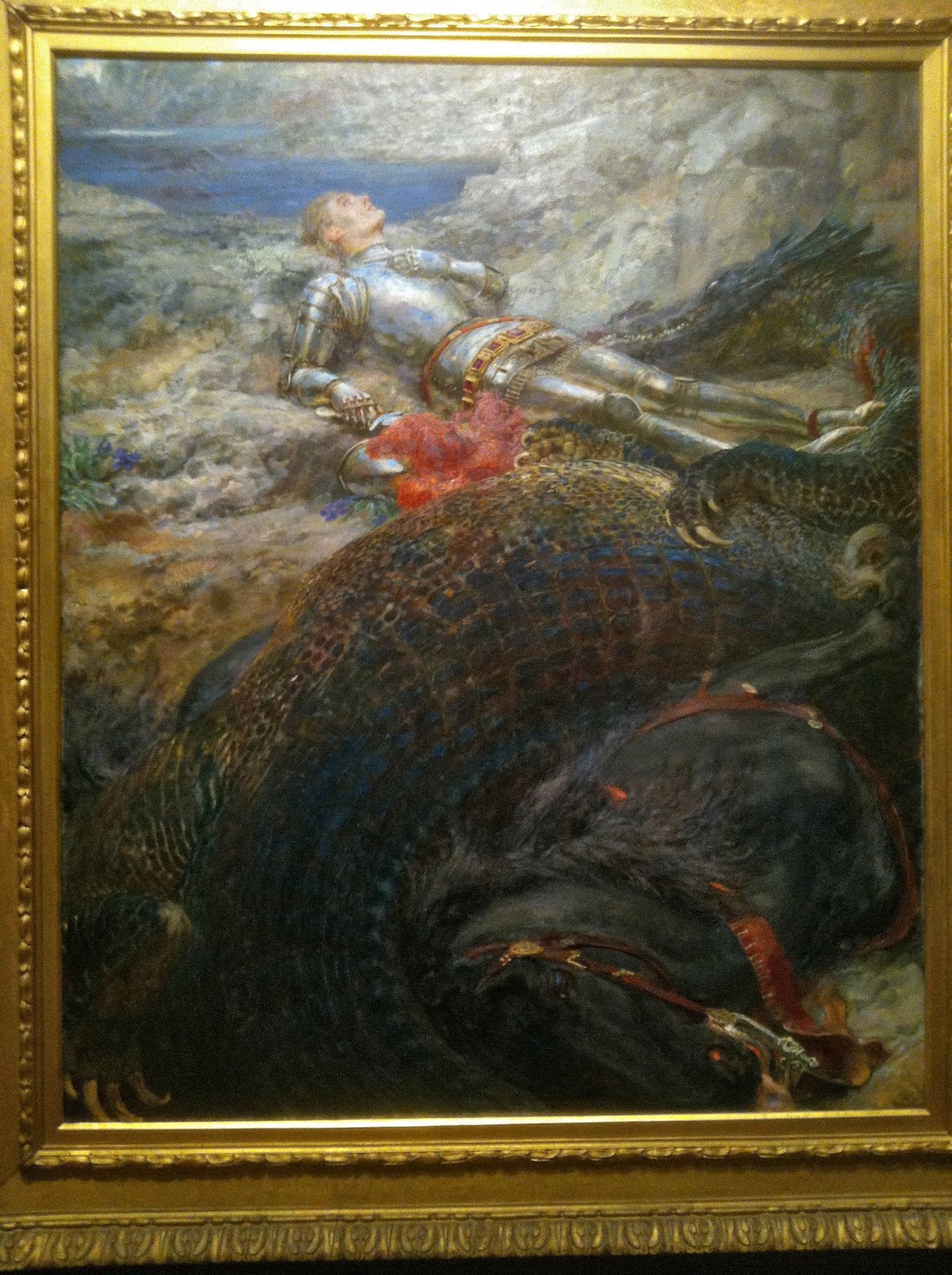 Briton Riviere       St George And The Dragon
As you can imagine , it was thrilling to 'discover' this work, especially as I was only passing through the museum on a fast track with my two daughters in tow.  And as much as my children do not mind their father dragging them to an art museum, I had to drop them off with their mother while I went back for a second, in depth, conversation with this work!
A few other wonderful discovers filled the same room as the Riviere, shown below.  My apologies for the poor quality of the jpgs, I only had an older iPhone 4 with me at the time.  This once again proves to me that no matter how much I think I know what to expect out of a museum I have visited many times over the years, inspirational discoveries are always lying in wait!
Gabriel Max       The Raising of Jairus' Daughter
Check out that fly on the young girl's arm!
Pascal Dagnan-Bouveret         A sister piece to a work at the Metropolitan Museum of Art
And to top it off, I had the pleasure to spend an evening with REAL friends (not the dead ones I visit too often in museums) whom I have not seen in a couple of years, Jean-Baptiste Monge and Margo!  They live in the city of Montreal and were busy preparing prints, art and a new collection of Jean-Baptiste's sketches for the Montreal ComicCon this coming weekend.  Check out JB's amazing work on his website, http://www.jbmonge.com , if you are not yet familiar with it, and order up his new book before they disappear!


Jean-Baptiste, Donato and Margo