Last March I had the chance to be part of one of the last art conferences of 2020, the Fantastic Arts Conference. I think it about it weekly. I am still amazed at how quickly life shut down! There was so much that I had planned for last year that was canceled. I am sure that is true for all of you. As we progresssed through the year we all started to adapt. Society changed to accommodate the new rules for social and work life. It has, in my opinion, brought some beautiful new opportunities and tools to the forefront. One of those is the proliferation and normalization of conferencing tools and remote learning.
So, we look to the future and to me it is looking bright indeed! I have been very lucky to be invited to be part of what I think will be a wonderful online learning conference for artists of all kinds. If you haven't heard about it, it is called the Vision X Live.
Here are some of the presenters at the conference:
Albin Veselka
Iris Compiet
Bryan Mark Taylor
Stan Prokopenko
Casey Childs
Scott Christensen
John Burton
Michelle Dunaway
David Dibble
Dylan Cole
Dina Brodsky
Fred Gambino
Glenn Dean
Vanessa Rothe
Doug Fryer
Jeff Hein
Josh Clare
Rebecca Douglas
…and many more. You can see a bigger list on their website, but they are still adding more presenters to the schedule. One of things that I am looking forward to is the great diversity of fields and disciplines that are being represented at the conference.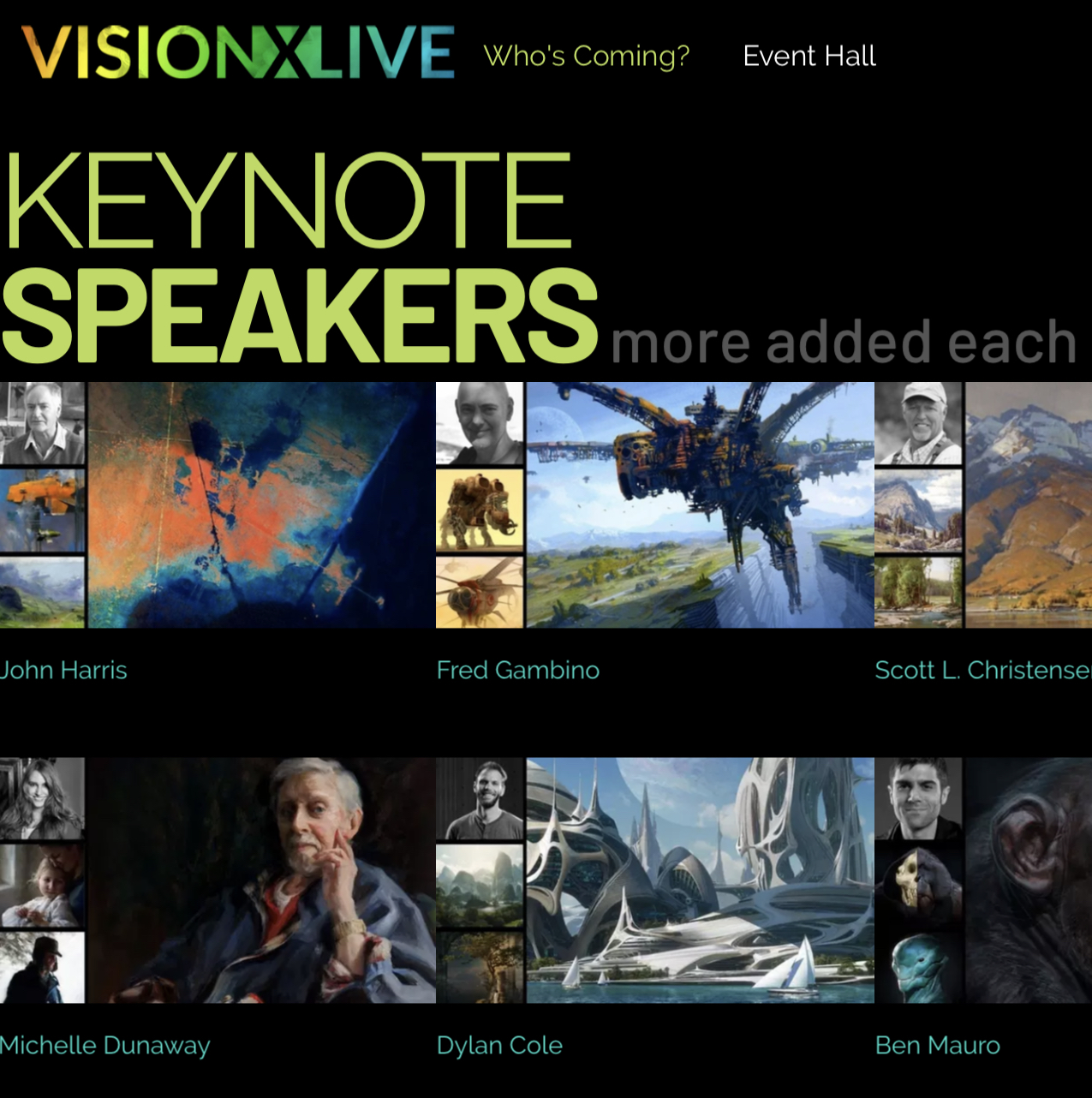 Dates for the conference are July 16th, 17th and 18th. There are free and paid options. You can email info@visionxlive.com if you have additional questions that aren't answered on their website.
When I told Keith Huang, one of the co-founders of the event, that I would like to write about it here he sent me a generous early bird discount code for Muddy Colors. If you do sign up use the code 'MUDDY40' to get 40% off the full price. There is a limited quantity of discounted tickets available.
Keith also asked me to pass on that they are still looking for artists that want to exhibit and promote. You can find out more here: Become and Exhibitor
We are eventually going to get back to in person events and conferences, but we now also have access to fantastic online events that allow for access to dozens or hundreds of artists that we want to learn from, all from our own homes. I look forward to both!
See you at the Vision X Conference!
Howard