This month saw the release of my 12th annual sketchbook, a collection I've called A Light in the Woods.
While I do a new a series every year, you can trace the beginnings of this particular sketchbook back to 2015. That year I'd begun a bunch of fairy tale work and I'd planned to take on a variety of stories. Ultimately, after a bunch of rambling around on my part, I ended up focusing in on just one of the stories and made that my sketchbook for the year.
Thematically, I couldn't have planned a better title. Wanderings, as I came to call the sketchbook, worked on two levels. One, it reflected the actual story of the fairy tale. And two, I spent a good chunk of 2015 wandering around. As I initially wrote for that sketchbook:
2015 has been a year of wandering for me. I've experimented with my work, journeyed far and wide, and I've meandered my way through this collection for the better part of a year.
It took time to figure this new series out. It took some rethinking of how it is that I work. It took me making the time to travel and do other things. What I'm trying to say is the only way to get there was by wandering.
And later in 2018 for Visions of Whence, I elaborated on those thoughts and felt like I could speak to them more directly:
2014 was a busy year and 2015 hit the ground running. In what little free time I could find between the client projects I was juggling, I had planned a massive new series of fairy tale work. Twenty-some pieces. I had all the thumbnails done and in fact had already set to work on the drawings for the first tale.
At the time I could feel exhaustion creeping around the edges but I continued to throw myself into my client work and my personal work. Everything culminated, however, in one particular book project. That thing just about broke me. It was a book I really wanted to illustrate and I had poured myself into it.
In the end I was paid for my time but I didn't get the project. If I'm completely honest, I felt rattled. Dazed. Coupled with the aforementioned creeping exhaustion, that setback sent me shuffling down a slow, winding path. I can only describe it as a malaise. It was a creative listlessness that I did not fully snap out of until I had done some wandering of my own. That summer I made it a point to get out of the studio and do a bit of adventuring. Directly touching the themes of Wanderings, I just had to leave for a little while and go see what I could see.
When I returned I felt ready to once again leap into my annual sketchbook. But I had spent so much time wandering I'd left very little time for the creation of this new fairy tale series. In a stroke of genius, Erin suggested I set aside the rest of the collection I had already planned and focus exclusively on that first story I had started, a little Swedish fairy tale called Bella's Wanderung.
I tell you, I felt as if I had finally left the brambles behind me and stepped into a bright, grassy expanse. I was ready, at last, to set myself back on the trail. It just took wandering to get there.
Year to year, I pour everything into these collections and that also means a considerable amount of thought and planning goes in to just what to title a sketchbook?
It might seem simple, but the title for A Light in the Woods took me the longest time. Over the years I've found that a title in mind helps me mentally see the collection in better focus. I'd been working with the ideas and arranging the three fairy tales I would include in this sketchbook for a while but nothing had quite arrived just yet.
Most of the time, as you can see, it's usually the theme that suggests a title to me.
In this instance, however, the theme is pretty broad. And to just call the sketchbook "Fairy Tales" isn't all that interesting so I started looking at the themes within each of the three stories: Snow White, Snow White and Rose Red, and The Golden Bird. The question of the unifying theme is one that I'm kind of ashamed to say how long I mulled over.
The answer is so completely obvious. Death. These stories are filled with it. Everybody in these woods is dying or talking about dying or afraid of dying or getting killed or asking to be killed or coming back from the dead.
Even the story of Snow White and Rose Red, the most tame one of the bunch, doesn't end before a bear mauls a wicked dwarf to death (not pictured in this sketchbook, I'm afraid).
Fairy tales aren't kidding around when it comes to elemental, very human concerns.
For every fox begging to get it's head lopped off there's a cursed creature who just wants to be human again. For every glass coffin there's a princess who's only sleeping. When these stories take their worst turns, there's precious little light. It's a fragile hope life will return. But Snow White will wake up. As Tolkien puts it, fairy tales deny "in the face of much evidence, if you will, universal final defeat."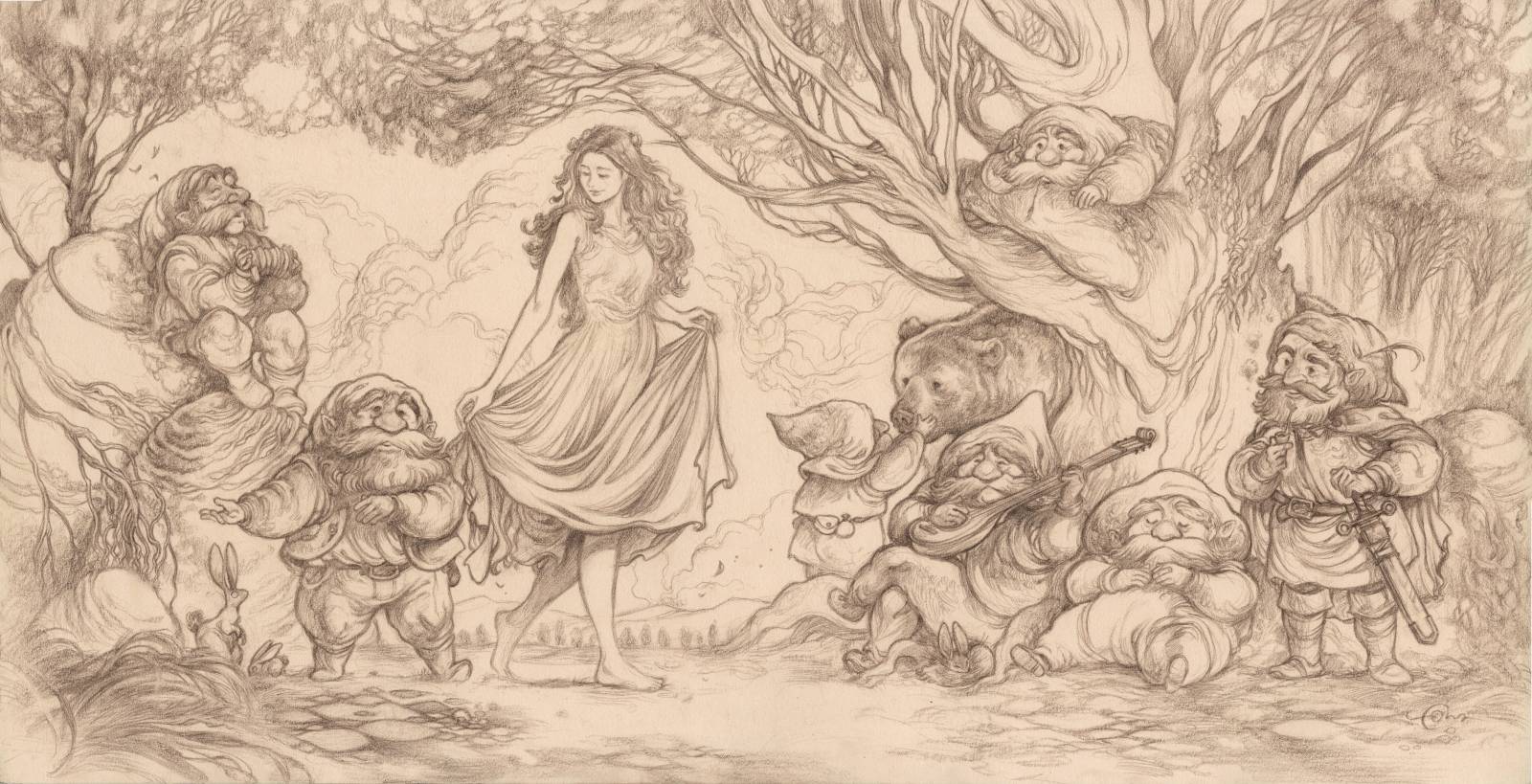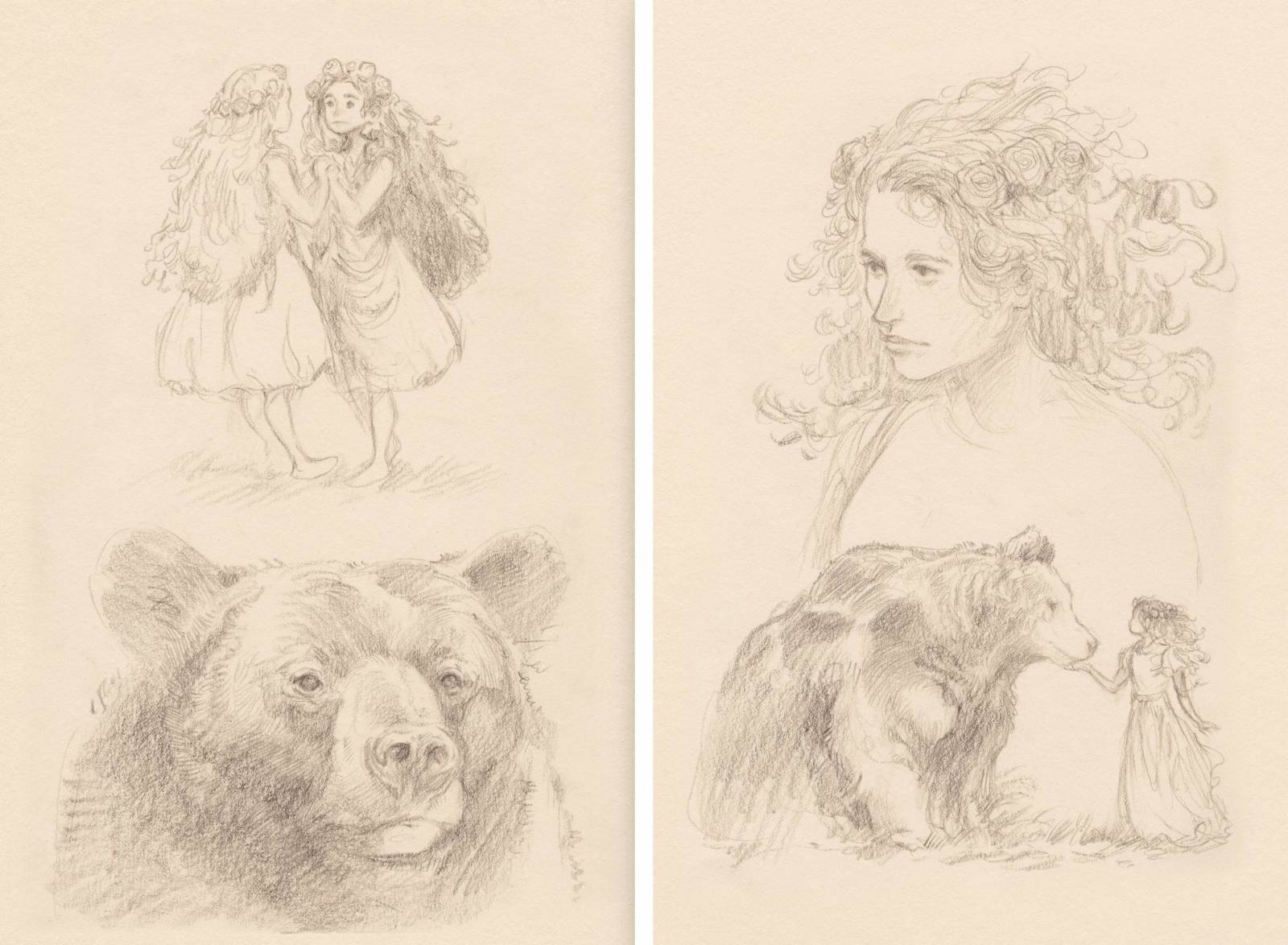 I've enjoyed another year on Muddy Colors! My thanks to you, faithful Muddy Colors reader.
Here's a look back on where we've been this year with my 2019 posts:
WILLFULLY DEFACING AN OTHERWISE FINE BOOK
A LOOK INSIDE TIDES OF THE DARK CRYSTAL
JIM HENSON'S THE STORYTELLER: SIRENS
ARTIST SPOTLIGHT: ASHLY LOVETT
JIM HENSON'S THE STORYTELLER: SIRENS PT. II
THE INKTOBER ARTISTS THAT I'M FOLLOWING THIS YEAR